The Site
A Concept in Progress

The wish to bring back an outdoor pool stems back to the 1980s following the closure of Twickenham Baths. In the decade that followed the closure of the ice rink in East Twickenham was another blow to the social life of Twickenham.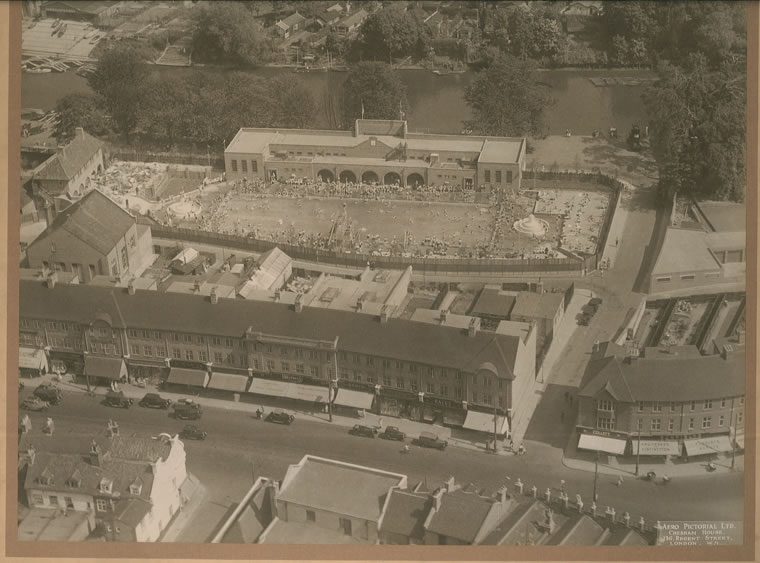 Twickenham Lido 1937
Since that time a number of concepts have been put forward, but none have gone forward.
This Twickenham Lido concept not only returns the outdoor pool - a modern lido with community café and restaurant - but a large town square with plenty of space for the Christmas and New Year temporary ice rink. A ramp with steps gives easy access to the site.
Diamond Jubilee Gardens and the children's playground remain a central feature.
The front of the site on King Street has a complex for retail/commercial/residential use.
An indoor market reminiscent of modern markets in European cities, such as the Mercato in the Termini in Rome or Sant Antoni Market in Barcelona, flows from the units mentioned above. Mood boards will be presented which give the flavour of such ultra-modern retail and food outlets.
Boathouses will connect the complex to the river. The SUP - Stand Up Paddleboarding - club hopes to operate from this side of the river.
There are also options for a pontoon and the bridge linking Twickenham with the other side of the river.
Underground parking will be included in the design.